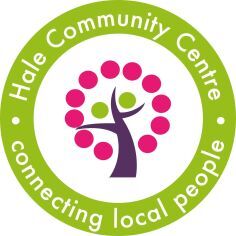 Following the Government's announcement that Plan B restrictions would be lifted on 24th February, Hale Community Centre would like to assure all visitors to the Centre that we intend to continue to work hard to ensure the safety and confidence of all staff, volunteers and visitors by asking anyone who tests positive or show symptoms not to come into the Centre for everyone's safety.
We appreciate that the Government's relaxation of rules will affect the confidence of our vulnerable and high risk users and we need to ensure that our whole community remains confident in their own safety when visiting the Centre.
It is more important than ever that vulnerable people, those who feel more cautious and those have suffered as a result of isolation during the last two years feel confident using the Community Centre, in order to improve mental health and wellbeing.
We need to play our part in stopping the spread, but also in ensuring that our whole community can continue to access our services.
We remain vigilant and ask our users to respect this. We are asking all Centre users to follow the principles below:
Hale Community Centre's key principles to living well with Covid-19:
People should stay at home if unwell.
We will continue to encourage ventilation in all rooms. Opening a window for ten minutes helps. (This has also been shown to reduce risk of catching other airborne diseases such as flu).
We will continue to ask visitors to the Centre to wear face coverings if they are able when in the communal spaces.
Information about safe behaviours including reminding people to wash their hands often, avoid touching their face, nose or eyes and "Catch it, bin it, Kill it" reminders will be used around the Centre.
We will request that social distancing is maintained as far as possible and encourage respect that others may wish to take a more cautious approach.
February 2022
19:42, 28 Feb 2022 by Melissa Salisbury