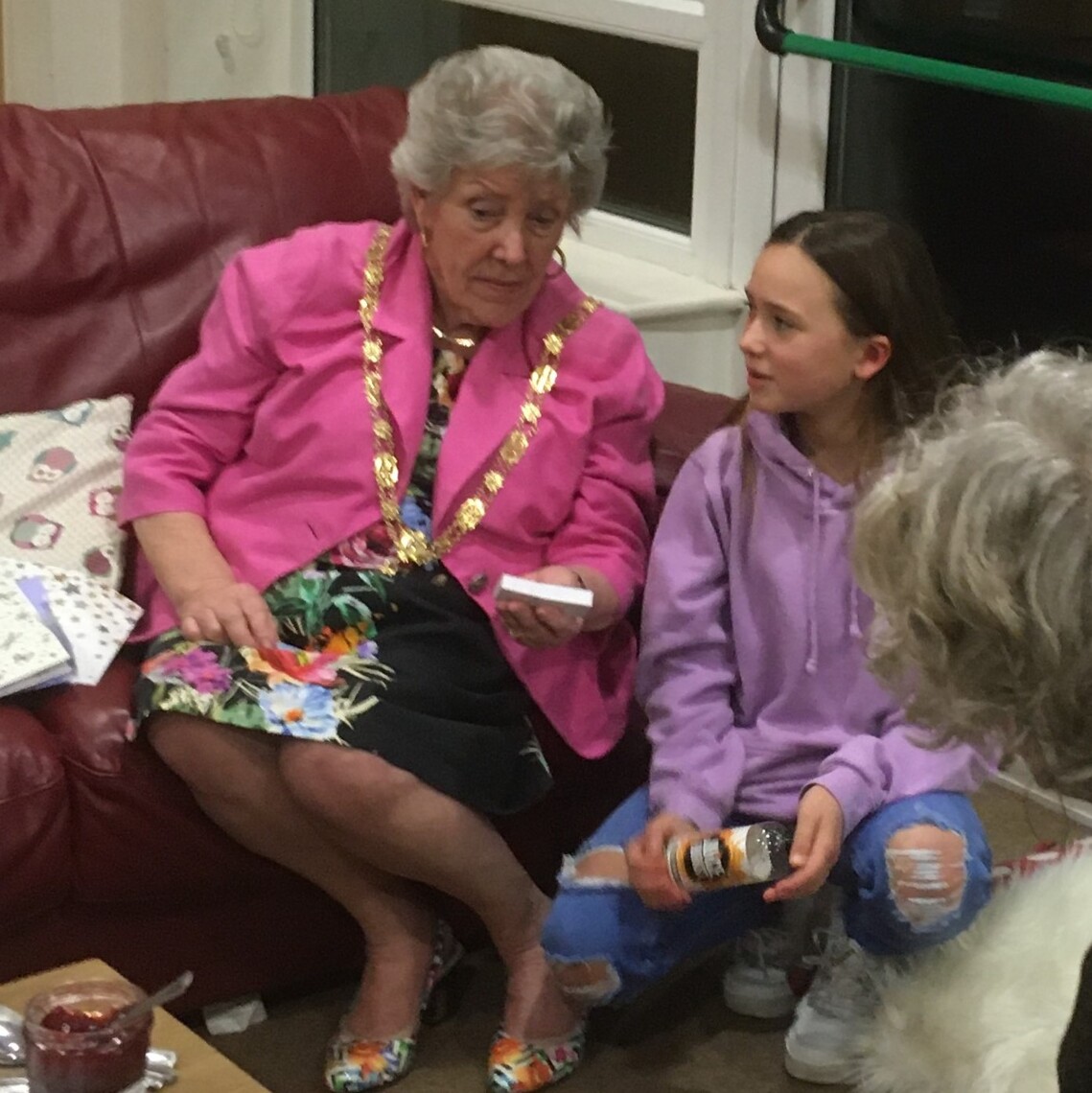 Lots of fun at Hale Community Centre's Girlz Club last week, when the Mayor of Farnham, Councillor Pat Evans came along to join the girls in an informal get together, following an invitation from the new Senior Girlz Group.
There was lots of conversation and a question and answer session, where the girls were able to learn about the Mayor's Mayoral year and the impact her theme 'working with the community for the community' is having on the ways that young people can be involved in decision making within the community.
Emma Swinden, the leader of the Girlz Club congratulated the girls on a very successful evening. They displayed valuable life skills, taking an active role in planning the evening, including creating delicious desserts that everyone enjoyed.
On the weekend of 26th April, members of the Girlz Club and helpers will be raising funds for the Club by hosting the refreshment stall at Music in the Vineyard, where they will have lots of home-made treats to tempt the audience during the interval.
15:07, 10 Feb 2020 by Cathy Burroughs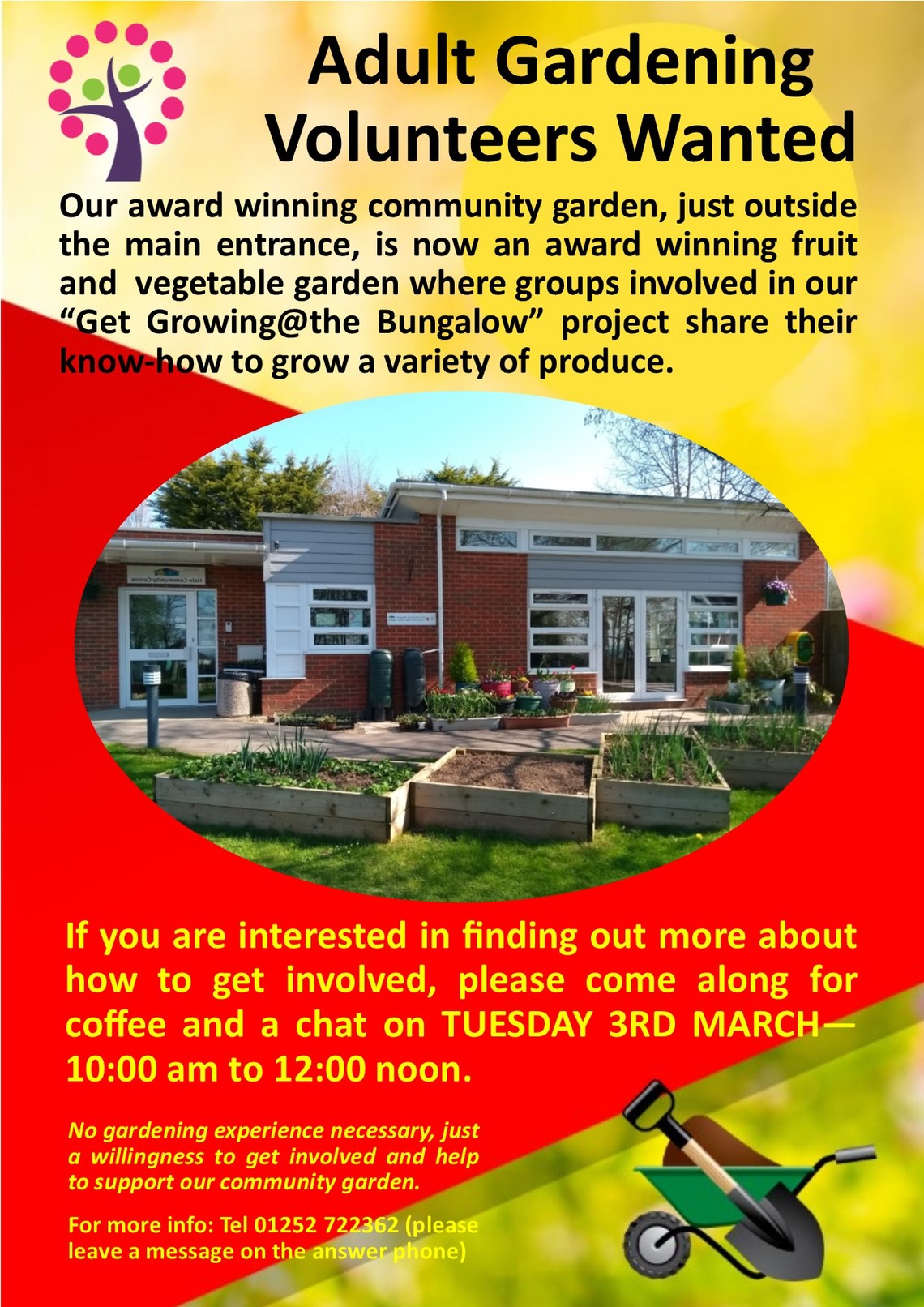 Adult Gardening Volunteers wanted; no experience required, just a willingness to get involved and support our award-winning community garden.
If you are interested, come along and join us for coffee and a chat on TUESDAY 3RD MARCH—10:00am to 12:00noon
19:16, 08 Feb 2020 by Cathy Burroughs

Local charity, Surrey Community Action has teamed up with Hale Community Centre to open Surrey's first Warm Hub.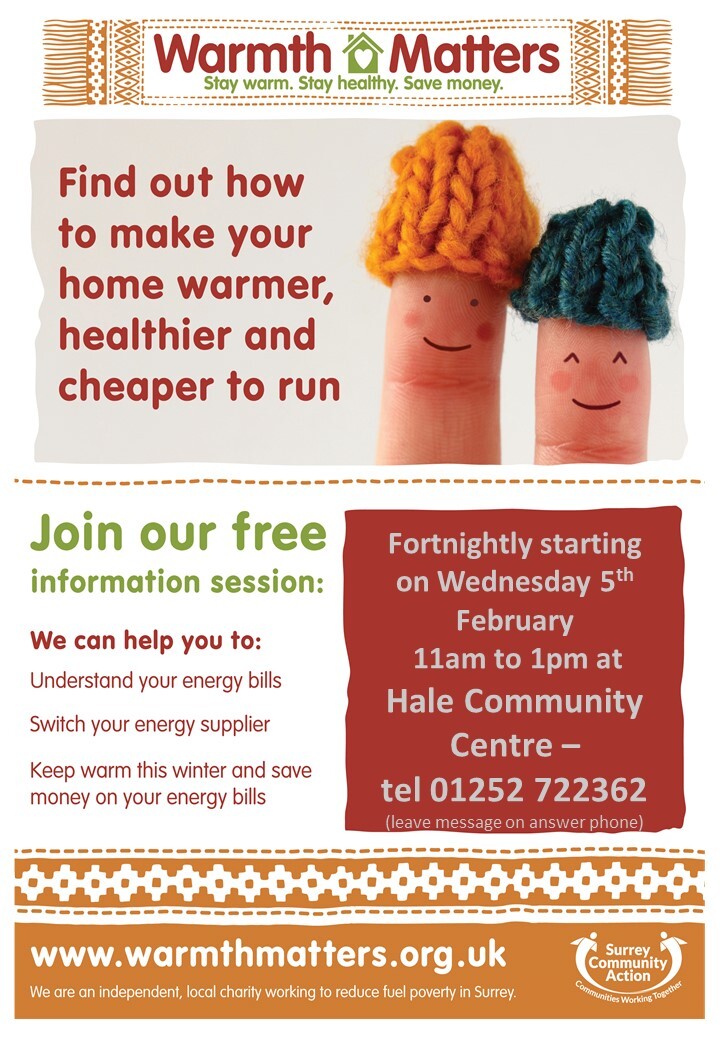 A Warm Hub can be any community venue – a village hall, a community centre, a church, a parish room – which provides a warm and friendly environment for people to meet over refreshments and find out how to keep warm for less. Surrey Community Action aims to introduce a network of hubs across the county as part of its Warmth Matters project which offers practical advice and independent guidance to help people stay warm, stay healthy and save money.
The Hale Hub, which is supported by ecopare, will enable people from the local community to benefit from free and impartial energy advice and help to save money on energy bills. There will also be the opportunity to attend a 'switching session' which will help people to understand how much they could save on their energy bills by switching supplier or tariff.
Visitors to the hub can enjoy free cake, tea, coffee and hot chocolate too, while meeting other people from the local community. People will also be able to take away blankets and hot water bottles depending on the availability of donations.
Sessions take place on the first and third Wednesday of each month between 11.00am – 1.00pm at The Hale Community Centre... see more in the Surrey Community Action Press Release
14:10, 28 Jan 2020 by Cathy Burroughs

Archive
Use the calendar or list of months to view entries made on those dates.
| S | M | T | W | T | F | S |
| --- | --- | --- | --- | --- | --- | --- |
| | | | | | | 1 |
| 2 | 3 | 4 | 5 | 6 | 7 | 8 |
| 9 | 10 | 11 | 12 | 13 | 14 | 15 |
| 16 | 17 | 18 | 19 | 20 | 21 | 22 |
| 23 | 24 | 25 | 26 | 27 | 28 | 29 |