Five very special volunteers have had their contribution to Hale's community during the COVID-19 outbreak recognised last week. The Mayor of Farnham awarded John Ely, Emma Swinden, Felicity Fitchett, John McFarlane and Alan Hayes with gifts of vouchers to thank them for their work at Hale Community Centre, which celebrates its tenth anniversary this year and is one of the charities which the Mayor is supporting during her Mayoral year.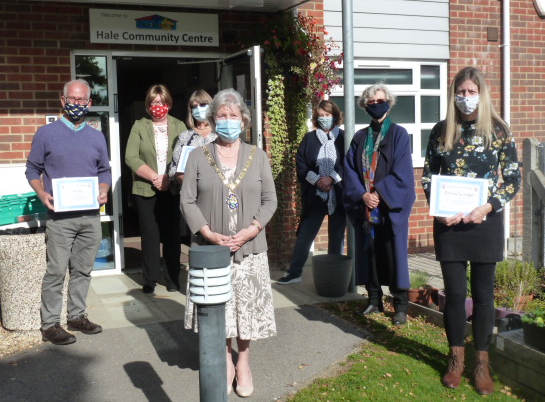 "Volunteers have been the backbone of support in our communities during lockdown, so it is a privilege to hear about some of Hale Community Centre's volunteers today and even to meet them and say 'thank you' in person," says the Mayor of Farnham, Councillor Pat Evans.
Cathy Burroughs, the manager at Hale Community Centre explains: "Each of these five volunteers put their heart and soul into helping the people of Hale, in particular some of those in our community for whom lockdown was and continues to be especially hard."
John Ely leads the gardening club, supported by Alan Hayes. Together they kept the garden healthy and productive during lockdown, providing a supply of fresh produce for the community.
Emma Swinden runs Girlz Club, a group for young women which was a lifeline for its members at a time when provision for young people was otherwise drastically scaled down. Emma ensured members were able to keep in contact with each other through online activities and, when it became possible, by organising opportunities to meet up safely. With an emphasis on mental health and wellbeing support, it is not surprising that parents and members alike appreciated Emma's hard work.
Long-term community centre volunteer, Felicity Fitchett worked with Hale Community Centre's Administrator Sue Connolly to set-up the Hale branch of the Farnham Share Store, providing training for new volunteers on the project at the same time. She also established the Community Fridge, a project that reduces food waste and provides food by enabling users to donate unwanted food and take items they need.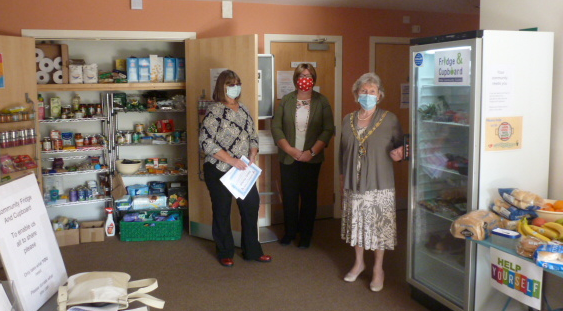 Helping to keep older people connected with each other since the COVID-19 outbreak began, John McFarlane worked tirelessly to keep the Senior and Craft Group running online. He provided online contact and activities to its members throughout and organised outdoor meet-ups when possible.
The Mayor met three of the five volunteers at the centre, giving them their vouchers in person while she heard about the importance of the work of the centre to Hale's community.
19:24, 06 Oct 2020 by Melissa Salisbury