If you and your family need a bit of a breathing space in lockdown, we may be able to help.
Hale Community Centre has joined up with St George's Church and space2grow in central Farnham and all three have opened their doors to families who need to get out of the home and into a different space.
The scheme has been developed in response to the growing mental health pressures that families are facing during lockdown. Many parents are struggling with working from home while trying to home-school several children, look after pre-schoolers, and run their households.
"The pressure on families is immense and we know that it is having a serious effect on mental health across the ages," said Norma Corkish, chair of trustees for Hale Community Centre.
"Parents are getting to the end of what they can manage to juggle and many children are feeling frustrated and are struggling to do all the school work which schools are legally obliged to set. As one parent said 'I am going a bit stir crazy being at home on my own'.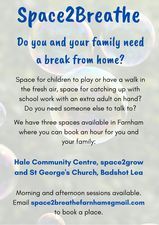 "Offering safe spaces where parents can bring their children is a practical step towards helping the families. Children can have some freedom to run round and play, engage with another adult, go for a walk, get some support with home schooling or whatever will help give a period of brief respite from the stresses of the current restrictions. And the parents can have another adult to talk to."
The scheme is offering morning and afternoon sessions and organisers hope to be able to increase the number of them if there are enough volunteers. To book a session in any of the three sites to allow children to play or do schoolwork with support from a volunteer who can also be a listening ear for parents email space2breathefarnham@gmail.com
Volunteers are needed to spend an hour either in the morning or afternoon with a family in the spaces and be willing to go for walks with the families. The organisers would also like to hear from any students who could spare some time to be an extra pair of hands. Anyone who can help should contact Cathy Burroughs at the Hale Community Centre on 07471180958 or halecommunitycentre@gmail.com